Report from Dobova
Report from Dobova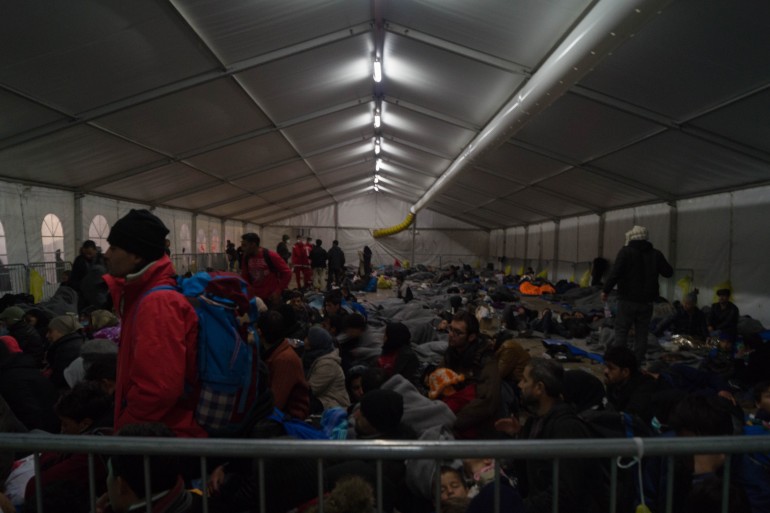 On Friday we were in refugee camp in Dobova.
General Situation:
The camp of Dobova is nowaday the major and only camp at the border of Croatia. It is close to the train station where the trains from Croatia are arriving and the refugees transfered to the authority of the Slovenian government. In this camp, police procceed to registration. It includes fingerprinting, identity controls and issuing of "permission to remain" on the Slovenian territory. After registration, or the refugees overnight in the camp, or go to Sentilj or Austria.
In Dobova, the first camp close to the train station in the center of the village was closed yesterday. It was really dirty outside and stinking a lot. The volunteers were cleaning the area and it should not be reused. Regarding the main camp of Dobova, it has been slowly emptied yesterday evening and the refugees where supposed to be sent to the camp of Sentilj at the border with Austria. The coordinator of the Red Cross said that about 2000 refugees transited by the camp on Friday.
Observations:
The transit was quick as some registrations were done previously at the train station. Some refugees did not remain more than 30 minutes in the camp before going back to the buses direction Sentilj.
Nonetheless, the situation was sometime a bit tense as the police was massively equiped and soldiers with guns were present inside of the camp. They were speaking loudely and rudely to the refugees to maintain order when proceeding to the embarkment in the buses. The presence of these armed soldiers can be scary for the refugees and are a nonsense. In fact, we cannot imagine the army shooting to the crowd of refugees in case of problem. These weapons are not done for mass control and are not effective with a compact group of people. They are excessive and useless in order to maintain control over the camp in this situation.
The general situation for distribution was good. Food and clothes were given efficiently and no major problems were reported or observed. At 20h, the coordinator of the Red Cross anounced that food and clothes distribution was stopped for the evening. The last group of refugees who arrived later on and remained shortly could get access to food and water but they were not given any clothes as the transit was quick.
Volunteers:
Volunteers willing to work at Dobova have to register to the police station in Brezice and to the Red Cross coordinator in the camp of Dobova. If you are willing to help, you can contact the Red Cross, Caritas or Slovenian Philanthropy. If you are willing to help there anyway, there is a small group of volunteers worrking without registration at the rentrance of the camp. They are providing food and clothes to the refugees when they are leaving the camp.
What is needed:
Baby food
Blankets
Male shoes – 37 to 45.
Male trousers
Male jackets
Male Pulls
Teenager trousers