Teorija in praksa: Special thematic section Masculinities and care
Teorija in praksa: Special thematic section Masculinities and care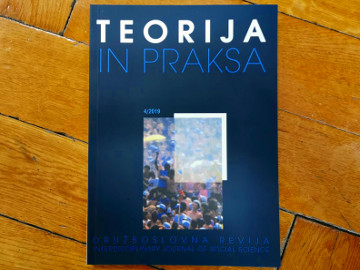 We announce the publishing of special thematic section Masculinities and care: Men's experiences in formal and informal care work  (Teorija in praksa, vol. LVI, no. 4) edited by Majda Hrženjak and Elli Scambor.
This collection of 11 original scientific articles contributes to the expanding research of masculinity and care by presenting evidence of men's active participation in a range of types, locations and geographies of care. It brings further analysis of the complexity of men's inclusion in care work in terms of both the social regulation of gender as well as the structural factors like generation, location, labour markets, welfare systems, migration, organisational cultures and dominant norms of family and care.
All articles are available in open access on the journal's webpage.
From the Editorial written by Majda Hrženjak and Elli Scambor:
"Whether the concept of caring masculinity as applied not only to interpersonal relationships (parenting, partnership, friendship) but also to wider social relations like care for the community, the environment, and marginalised groups holds transformative potential to change the patriarchal gender order and neoliberal capitalism remains an unsettled question regarding the dynamic that exists between structure and identity. Some authors see the changing masculinity as a form of the continuation of the privileges via the reconfiguration of masculinity rather than as a sign of the transgression of gender norms leading towards equality (Cottingham 2017; Björk, 2015; also see Bembič and Hughson in this issue). Populists view caring masculinity as the feminisation of men and as constituting a threat to the traditional social order. Still others state that caring masculinities are creating opportunities for men to deepen caring relations with others and contribute to a healthier and more caring society, bringing positive consequences not just for the gender order but for society and the economy as a whole (Scambor et al., 2019)."