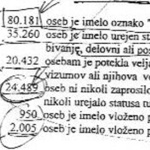 (
787kB
)
Regarding this issue the Ministry of the Interior replied that the officers of the former Yugoslav Army, like all other citizens of other Yugoslav republics with a permanent residence in Slovenia, had an opportunity to apply for citizenship. If they did not apply for citizenship or their application had been rejected, the Aliens Act, which was illegally interpreted by the Ministry of the Interior in a way that they had to re-arrange their legal status, applied for them. It is clear from the dispatch, how the Ministry intended to justify the deprivation of the legal status of the affected persons, by referring to the implementing regulations (Rules on Keeping and Maintenance of the Central Register of Residents of RS) in which the legal basis they referred to did not exist.
The dispatch is interesting because it mentions the data on matters of legal status of foreigners and on current procedures for acquisition of citizenship on the day 31 December 1995. On that day 80,181 persons had a code "foreigner" (444 of these already passed away), 35,260 persons had a regulated status of a foreigner, 20,432 persons' residence permits expired, 24,489 persons never applied for a residence permit or visa (meaning that they never arranged their status of a foreigner in Slovenia according to the Aliens Act), 950 persons had filed a request for a permanent residence permit and 2,005 persons for a temporary residence permit.
Based on the data the Ministry concluded that in the computer records there are 44,921 persons with a code "foreigner", who's residence permits expired or who never arranged their legal status of a foreigner in Slovenia, and for whom it was not known if they even reside in the territory of RS. In most cases these are, according to the Ministry, "aliens sur place" that were registered in the register of permanent residents before 26 February 1992 and are now on the list of illegal foreigners. The Ministry assumed that most of these foreigners no longer reside in Slovenia, since they never arranged their status of a foreigner or temporary refugee. This allegation was untrue and not checked in practice.