GEAR: Global Education and Active Response for the Protection of Human Rights, Inclusion and Democratic Values in Intercultural Societies
GEAR: Global Education and Active Response for the Protection of Human Rights, Inclusion and Democratic Values in Intercultural Societies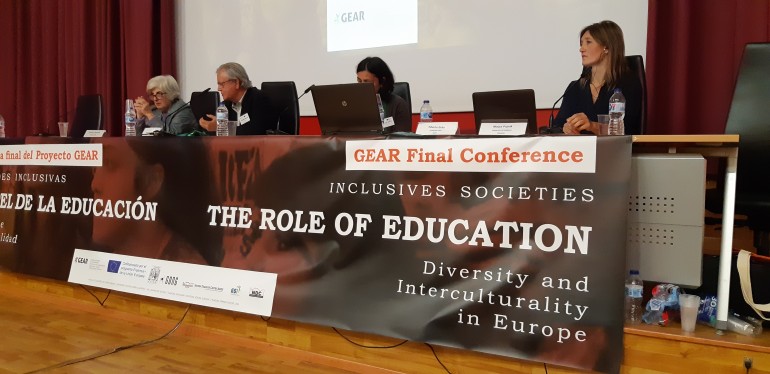 Within the GEAR project, a final conference entitled INCLUSIVE SOCIETIES: THE ROLE OF EDUCATION, INTERCULTURALITY AND DIVERSITY IN EUROPE, took place on 26 and 27 October 2018. The conference was hosted by the CIVES Foundation in Madrid, Spain, one of the partners of the international project, which has been active in the field of global education for two years now. Nearly one hundred participants from Spain, Slovenia, Italy, Croatia and Macedonia discussed the challenges and good practices in the field of education for democratic values in intercultural societies. In the panel dealing with the challenges that the European Union faces with the elections in 2019, Assoc. prof. dr. Mojca Pajnik critically addressed the topic of populism, with emphasis on conceptual definitions, the reflection of the extreme right populism of political parties and the role of education in post-democracy processes.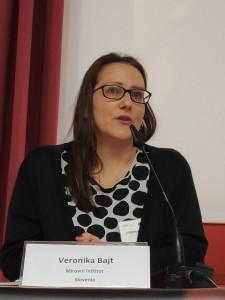 In the debate on the challenges of global citizenship for inclusive education, Karmen Kukovič from the Youth Centre of the Dravinja Valley invited participants to critically reflect on their own positions and actively work on changes to the existing educational system. Špela Čekada Zorn from the Brezovica Primary School and Andrej Svete from the Šiška Secondary School of Technical Sciences presented their classroom activities in the field of global education and their active contribution within the GEAR project. Their presentations were part of the presentation of good practices in all five participating countries. The project leader dr. Veronika Bajt summarized the experiences and activities that were carried out across Slovenia, highlighting very positive feedback from the participants.
Teachers especially praised the opportunity for inter-school exchanges within the GEAR project, as they were acquainted with new approaches in education and could establish valuable transnational contacts. The youth also strengthened their skills at the workshops, exchanged experiences and established international contacts; some also attended the closing conference and presented their views on the future of action to protect human rights in education. In the final months, the project also presents the common GEAR Curriculum: Building Inclusive Intercultural Environments through Global Civuc Education, which combines theoretical and practical reflections.