35 journalists honoured with the 2016 EU Investigative Journalism Awards
35 journalists honoured with the 2016 EU Investigative Journalism Awards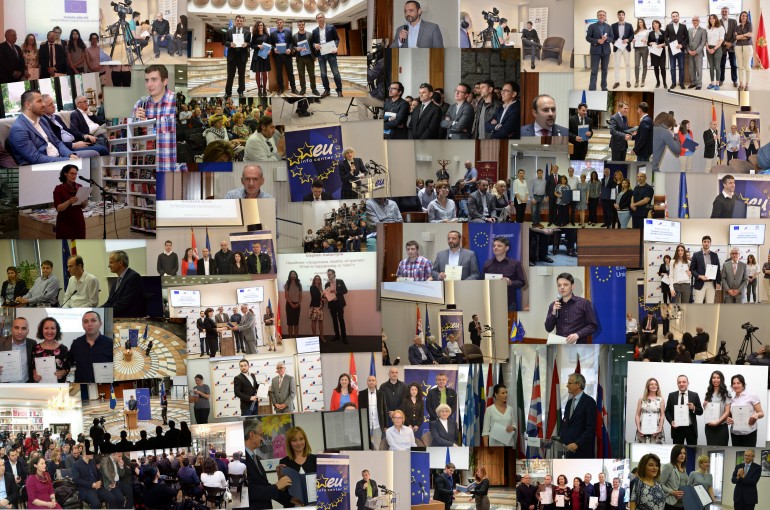 The 2016 regional scheme of EU awards for investigative journalism in Western Balkans and Turkey rewarding the best investigative stories published in 2015 is brought to an end.
Altogether 35 journalists in Albania, Bosnia and Herzegovina, Kosovo, Macedonia, Montenegro, Serbia and Turkey were awarded for 24 investigative stories. In many cases, more than one journalist contributed to the awarded story. Among winning journalists, 13 are female and 22 are male. BIRN was featured prominently – 13 of its journalists took home 5 awards, including the awards in Albania, Serbia (2 awards), Macedonia and Kosovo.
The awarded stories cover a wide range of topics: from petroleum concessions, shady business deals and mismanaging of public resources such as funding or police force, to life threats faced by Roma, femicide and child abuse in imprisonment.
Winning journalists received a total of 75,000 euro from the funds established for the EU investigative journalism awards in Western Balkans and Turkey.
Separate award contests were organised in each of the seven EU-Enlargement countries mentioned above. Eligible were investigative stories contributing to transparency and reporting on societal issues related to abuse of power and fundamental rights, corruption and organised crime, issues that otherwise would not have been brought to the public's attention. In total, 247 nominations were processed. This year a special award category for the best story written by young investigative journalists was added.
The award scheme was established by the European Commission following the EU Enlargement strategy to monitor the reform processes and to keep the historical momentum towards the EU accession. Three annual contests are included in the award scheme. This year the EU awards for investigative journalism in Western Balkans and Turkey have been delivered for the second time; the first contests were organised in 2015 rewarding the journalists' achievements in 2014.
The total award fund for the three annual contests in seven beneficiary countries for the period of three years is 210,000 euro. The annual award fund for each country is 10,000 euro, to be divided among the 1-3 prize winners at the jury's discretion with 3000- 5000 euro per individual prize. This year annual award fund in Serbia was 15,000 euro since, in 2015, the jury decided to deliver only the first prize and the remaining funds have been transferred to this year award fund.
The EU awards are administered by the regional partnership of civil society organisations, selected for that task by the European Commission. The regional scheme is coordinated by the Peace Institute in Ljubljana. The partners administering the EU awards for investigative journalism in the beneficiary countries are:  Albanian Media Institute, Tirana, Albania; Media and Civil Society Foundation Mediacentar Sarajevo, Sarajevo, Bosnia and Herzegovina; Press Council of Kosovo, Pristina, Kosovo; Macedonian Institute for Media, Skopje, Macedonia; Montenegro Media Institute, Podgorica, Montenegro; Novi Sad School of Journalism, Novi Sad, Serbia, and Platform for Independent Journalism P24, Istanbul, Turkey.
Independent juries in each of seven beneficiary countries awarded the top prizes as follows…