Dr. Iztok Šori Appointed as Director of the Peace Institute (Ljubljana, Slovenia)
Dr. Iztok Šori Appointed as Director of the Peace Institute (Ljubljana, Slovenia)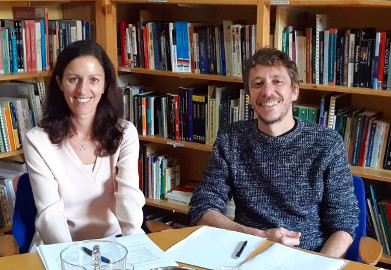 The Peace Institute, a private non-profit research institute based in Ljubljana, has a new director: Dr. Iztok Šori took over the leadership from Dr. Neža Kogovšek Šalamon.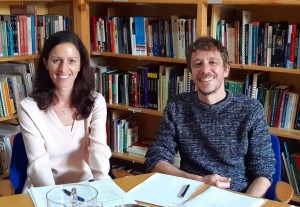 Iztok Šori, doctor of sociology, will take over the leadership of the Peace Institute as of 1 November 2018. His work focuses on gender equality, political participation, prostitution, racism, populism and migration. He has been part of the Institute's research team since 2011. In addition, he also worked at the Faculty of Arts and the Faculty of Social Sciences of the University of Ljubljana. For several years, he was the president of the association Vita Activa that works in gender equality. He authored or co-authored a number of scientific and professional publications, among them a monograph "Being Single: Between the Ideology of Family and the Ideology of Choice" (Aristae, 2015).
"The appointment is a great honour for me, I look forward to the challenge and I trust that our team will continue to successfully develop research, educational and advocacy activities in the field of human rights. The fact that hatred and intolerance are spreading in our societies and that many people are exposed to discrimination shows that our work is very much needed. Therefore, the Peace Institute will continue to strive for a society capable of critical thought and based on the principles of democracy, solidarity and equality", said Dr. Šori.
Dr. Neža Kogovšek Šalamon has been working at the Peace Institute for thirteen years, of which she has been running the institute for six years. She is also looking forward to a new professional challenge, as she will take over the position of head of the legal department at the Slovenian equality body where she will continue to work in human rights protection. "The Peace Institute is in excellent condition. It has a highly professional and motivated team of people with diverse skills and remains one of the most prominent actors working on social issues in Slovenia. I am very proud of my colleagues and everything that we have achieved together," said Dr. Kogovšek Šalamon.
Dr. Šori was appointed Director of the Peace Institute by the PI Board, chaired by Dr. Lev Kreft. "I thank Dr. Kogovšek Šalamon for the successful work. We believe that under the leadership of Dr. Šori the Peace Institute will continue to work hard as an important stakeholder in public debates in these times when inequality, discrimination and racism are on the rise," said Dr. Lev Kreft.
About the Peace Institute: The Peace Institute is a private, independent and non-profit research institute. It was founded in 1991 by a group of individuals who believed in peaceful resolution of conflicts, equality and respect for human rights. The Institute uses scientific research and advocacy activities aimed at creating and preserving open society capable of critical thought and based on the principles of equality, responsibility, solidarity, human rights and the rule of law. It develops interdisciplinary research, educational and awareness-raising activities in the areas of social science, humanities, anthropology and law, in five thematic fields: human rights and minorities, politics, media, and gender. It acts as an ally of vulnerable groups and acts against discrimination in partnership with them, and in partnership with other similar stakeholders (institutes, universities, non-governmental organisations) as well as with residents on the local, regional and international level.
For more information contact the Peace Institute, info@mirovni-institut.si; phone: + 386 1 234 77 20.
Peace Institute Team