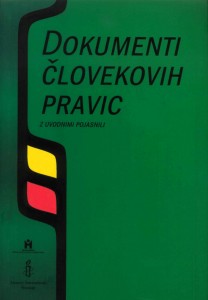 Human Rights Documents With Introductory Notes
The motive behind this publication was our wish to offer assistance to all those who address various human rights issues as part of their work or study, as well as anyone who wants to enhance their knowledge in this field. The introductory part contains explanatory notes by renowned legal and political experts from Slovenia: Matej Accetto, Miro Cerar, Peter Grilc, Arne Mavčič, Anton Perenič, Klemen Podobnik, Petra Roter, Jernej Rovšek, Zlatko Šabič and Dean Zagorac. They write about the nature and significance of human rights, the fundamental mechanisms of international law and mechanisms of human rights protection in Slovenia, and the significance of international NGOs active in the field of the protection and promotion of human rights. The second part consists of a selection of over thirty of the most important universal and regional documents on human rights. The documents are in Slovene and in English.
Co-publisher Amnesty International.