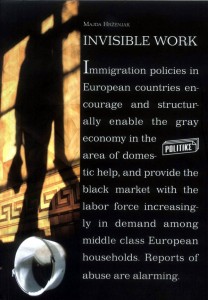 Invisible Work
Invisible Work focuses on long-term unemployed women and on (non) paid reproductive work. Non-paid domestic work is frequently considered women's work, or the "labour of love". Paid domestic work, on the other hand, is characterised by the specific concurrence of gender, nationality, race, class, citizenship and age. The book is a result of years of research work and it integrates the main theoretical and empirical findings relating to the fields that are as a rule treated separately: gender (in)equality in the labor market and with-in the intimate sphere, intersectionality, structural unemployment and the social economy.
Contents
I. The Dimensions of Contemporary (Un)Paid Domestic Work
Paid Domestic Work in Pre-Modern Europe
The Transformation of Domestic Labor Into Non-Labor and the Double Burden Borne by Contemporary Man
Structural Traits of Contemporary Paid Domestic Work
Social Economy: The Possibility of Professionalizing Domestic Work
II. (Non)Paid Domestic Work in Slovenia
From "Aleksandrinke", "Dikle" and "Šavrinke" to Housemaids
Domestic Paid Work as Employment: Long-term Unemployed Women as a Segment of the Contemporary, Informal Domestic Workers Group
The Crisis of Reproductive Labor in Two-Career Families With Children and Single-parent Families
Test Organization of Paid Domestic Work As Regular Employment
Conclusion: Paid Domestic Work – The Same as Any Other Job?