The book chapter on unrecognized ethnic minorities in Slovenia
The book chapter on unrecognized ethnic minorities in Slovenia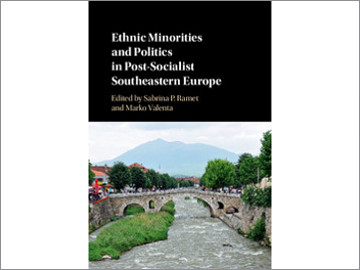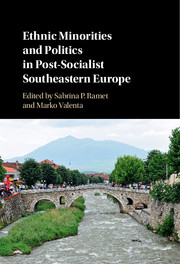 The book chapter "Nationalizing Citizenship: The Case of Unrecognized Ethnic Minorities in Slovenia" by Mojca Pajnik addresses processes of nationalizing citizenship, focusing on minority policies in post-socialist Slovenia. It is shown how the "securitization approach" in minority and migration regimes aims primarily to protect the national ideologies, consequently exacerbating the poor conditions and thin rights of certain minorities.
Published in the book Ethnic Minorities and Politics in Post-Socialist Southeastern Europe, eds. Sabrina P. Ramet and Marko Valenta, Cambridge University Press, September 2016.
The purpose of this volume is to provide a multidisciplinary, in-depth exploration of ethnic minorities and the relevant political developments of importance for minority groups in countries of Southeast Europe in the last two decades. Using post-socialist South-East Europe as a case, the contributions in this book elucidate tensions and interactions between structure and human agency, including the minorities' multiple belongings and interplays between regional developments and the local social and political responses of ethnic groups in different countries in South-East Europe.
The countries included in the volume are: Slovenia, Croatia, Bosnia-Herzegovina, Serbia, Montenegro, Kosovo, Macedonia, Romania and Bulgaria.
Table of contents
Part I Setting the Scene
1 Situating Ethnic Minorities in Post- Socialist Southeastern Europe: An Introduction
MARKO VALENTA AND SABRINA P. RAMET
2 Ethnic Politics in Post- Socialist Southeastern Europe: An Overview
JANUSZ BUGAJSKI
3 Social Distance Toward Ethnic Minorities in Croatia, Serbia, Montenegro, Macedonia, and Kosovo: A Comparative Analysis
ZAN STRABAC AND MARKO VALENTA
 Part II Political Engagements and Formations
4 Ethnic Minority Parties of Romania
AUREL BRAUN
5 Albanian Political Parties in Macedonia
ZACHARY T. IRWIN
6 The Organization and Political Position of Serbs in Croatia
FILIP ŠKILJAN
7 For the Love of Homeland: Croat Ethnic Party Politics in Bosnia- Herzegovina
JELENA SUBOTIC
8 Ethnic Minority Parties in Montenegro: From Marginalization to Integration
KENNETH MORRISON
9 The Movement for Rights and Freedoms in Bulgaria: Beyond the Ethnic Vote
MARIA SPIROVA
10 Bosniak Politics in Serbia: The Struggle for Recognition, Emancipation, and Historical Revisionism
ALEKSANDER ZDRDAVKOVSKI
Part III Ethnic Boundaries and Inclusion and Exclusion of Ethnic Minorities
11 Hungarian Society in Romania: Political Project and Practical Reality
IRINA CULIC
12 Minority (Serb) Returnees to Croatia: Reintegration or New Immigration?
MILAN MESIC AND DRAGAN BAGIC
13 Nationalizing Citizenship: The Case of Unrecognized Ethnic Minorities in Slovenia
MOJCA PAJNIK
14 Ethnic Boundaries and the Position of Minority Groups in Croatian Istria
MARKO VALENTA, SNJEŽANA GREGUROVIC 8 , AND ZAN STRABAC
15 Ethnic Boundaries and Politics in Kosovo
FRED COCOZZELLI
Part IV Conclusion
16 Afterword: A Few Thoughts about Autonomy and Separatism
SABRINA P. RAMET
The book can be ordered here