The EU should take responsibility and immediately act to prevent further mass death in the Mediterranean
The EU should take responsibility and immediately act to prevent further mass death in the Mediterranean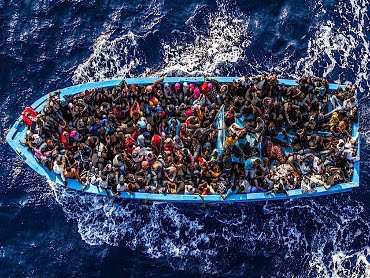 The Peace Institute team is deeply disturbed by mass death in the Mediterranean that are caused by EU migration policies and attitudes. The death of 800 persons as well as thousands other deaths before that are a horrific reminder that the European Union, its leaders and institutions, have not done their job. We as researchers in the field of human rights and migrations and as citizens of the EU feel that politicians are pulling us into an organized guilt for these deaths. The mass drowning was completely predictable. In 2014 when the Italian Mare Nostrum operation that covered international waters was replaced by a much smaller Frontex operation Triton, a number of organizations called for the continuation of large search and rescue operations. It is unacceptable that now the EU leaders are pretending to be shocked and surprised while they simply just failed.
We find the first reactions of the EU, which only targeted the criminal persecution of human smugglers offensive. Such reactions completely deny the role and responsibility of the EU for these disturbing mass death and totally ignore the reasons why people left their countries in the first place. Such events will repeat themselves time and again if the leaders of EU and the leaders of the EU Member States won't change their attitudes and take the political responsibility to prevent them. In particular, we demand that EU leaders as our representatives and the leaders of all EU Member States, including Slovenia, adopt concrete measures and support them with sufficient human, financial and technical resources, in particular:
To immediately engage all available capacities for search and rescue operations which is the only way to prevent tragedies of vessels that are already on the way;
To ensure that international law on refugee protection is strictly respected and that people in need of protection are granted access to asylum;
To consider activating the Temporary Protection of Displaced Persons Directive for persons massively fleeing war, to enable them to leave the country safely and obtain a temporary protection status in EU member states which will enable them to wait for the end of the conflict;
To change the racist framework of migration policies so that options are available for legal migration into the EU and people would not be forced to use irregular migration mechanisms to travel;
To rethink partnership-based development cooperation schemes in Sub-Saharan Africa and the Middle East as the ones in place are obviously not addressing the roots or true causes of the problems and are not improving the living conditions of many that risk their lives and try to find their way to Europe;
To shift the European attitudes that are now focusing predominantly on border surveillance and prevention of irregular migration to attitudes of humanity, solidarity and human rights.