The international conference on migration and development
The international conference on migration and development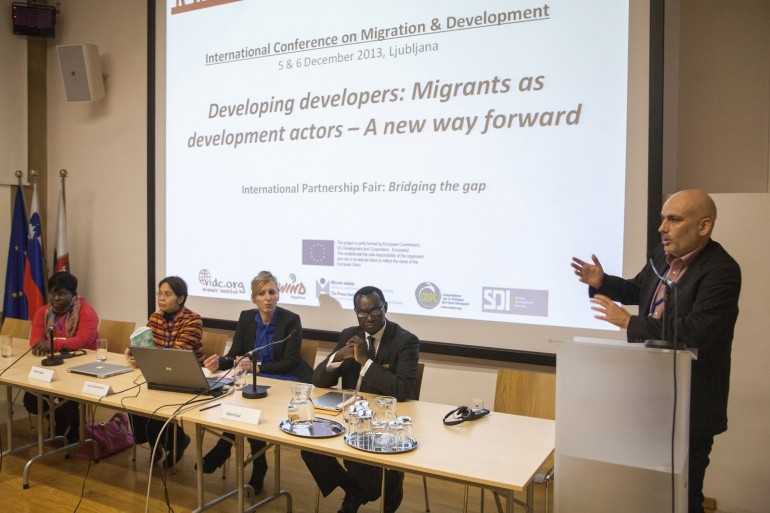 On 5th and 6th December 2013, we invite you to the City Museum Ljubljana, to the international conference on migration and development, entitled "Developing developers: Migrants as development actors – A new way forward" which will also include International Partnership Fair "Bridging the gap".
The speakers at the conference will be experts – both from governmental and non-governmental sector – in the field of migration policy and development co-operation from Austria, Belgium, Ghana, Italy, Slovakia, Slovenia and the United Kingdom. The panel discussions will be questioning various concepts of development cooperation in relation to migration issue and open the way for further discussion with all present audience.
At the event, Central European Manifesto on Migration and Development, a strategic document that contains recommendations for improving the understanding of the concepts of development cooperation and migration as a key element in this concept, will be presented as well.
Event nurtures synergies with the Regional conference on global education "TIA – There is an alternative", which is organized by SLOGA – Platform for Development Cooperation and Humanitarian Aid on 4th and 5th December 2013, also in the City Museum Ljubljana. Global education highlights the interdependence and individual involvement in the global scene, and so it covers the area of ​​migration and development cooperation as well.
Considering the intertwinement of the topics of both events,  together with SLOGA we are organizing a common International Partnership Fair, which will in one place get together representatives of non-governmental organizations working in the areas of migration, development cooperation and global education from Austria, Italy, Slovakia, Slovenia, Malta, Cyprus, Bulgaria, Romania, Croatia, Serbia and Montenegro. At the fair, organizations will have the opportunity to present their materials, to get to know each other, as well as find common interests and build partnerships for potential project ideas and applications.
We invite you to actively participate at both, the conference and international partnership fair!
You can also visit the online partnership market: http://www.comide.net/ where you can register your organization, project or project idea and easily search for partners and for projects.
For easier organisation we are kindly asking you to confirm your presence at the conference and / or partnership fair to Maja Ladić: maja.ladic@mirovni-institut.si by 25th November 2013.
The event is an activity of the international project CoMiDe – Consistency of Migration and Development Policy, carried out by VIDC – Vienna Institute for Development and Cooperation, Austria; Südwind Agentur – Information and Education about Global Issues, Austria; Society Development Institute, Slovakia; COSPE – Co -operation for the Development of Emerging Countries, Italy and the Peace Institute – Institute for Contemporary Social and Political Studies, Slovenia.
More about the project: http://www.comide.net/.

.