Online talk 'War and peace in Europe'
Online talk 'War and peace in Europe'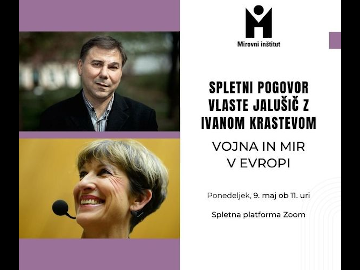 Online conversation between Vlasta Jalušič, a political scientist from the Peace Institute in Ljubljana, and the Bulgarian political scientist Ivan Krastev, one of the most important European public intellectuals. The interlocutors will touch on the following issues:
How is the war in Ukraine changing the identity of Ukraine, Russia and the whole of Europe? What did the attempt to imitate Western liberal democracy in the post-socialist countries of Eastern Europe bring? What is happening to liberal democracy in the West? What is the impact of the "Trump phenomenon"? Where are the origins of growing populism in the West and East, and where is populist support for fascism fueled? Have the intellectual potential and influence on politics been lost? Can liberal democracy oppose populism and fascism? What do the results of the recent elections in different European countries show? What impact has the pandemic had on democracy? What model of governance would we need? Is democracy possible in a world dominated by "crisis management"?
Ivan Krastev is the chairman of the Centre for Liberal Strategies and permanent fellow at the Institute for Human Sciences, IWM Vienna. He is a founding board member of the European Council on Foreign Relations, a member of the Board of Trustees of The International Crisis Group and member of the Board of Directors of GLOBSEC. He was a contributing opinion writer for the New York Times (2015-2021). Ivan Krastev is the author of "Is it Tomorrow, Yet? How the Pandemic Changes Europe" (Allen Lane, 2020); The Light that Failed: A Reckoning (Allen Lane, 2019), co-authored with Stephen Holmes – won the 30th Annual Lionel Gelber Prize; "After Europe" (UPenn Press, 2017); "Democracy Disrupted. The Global Politics on Protest" (UPenn Press, 2014) and "In Mistrust We Trust: Can Democracy Survive When We Don't Trust Our Leaders?" (TED Books, 2013). Ivan Krastev is the winner of the Jean Améry Prize for European Essay Writing 2020.
Vlasta Jalušič is a scientific advisor and the founder of the Peace Institute. As a full professor, she also lectures at the Faculty of Arts, University of Ljubljana, on Nationalism, Racism and Gender Policy. She received her PhD in political science in 1996 from the University of Vienna. She is the author and translator of several books, articles and chapters in books on women's movement, feminism, (gender) equality, political theory, violence, war and collective crime, and an excellent connoisseur of Hannah Arendt (cf. bibliography). As a longtime activist against discrimination and for gender equality, she has been involved in many feminist networks and human rights activities. For many years she was a columnist for the weekly Mladina and other newspapers.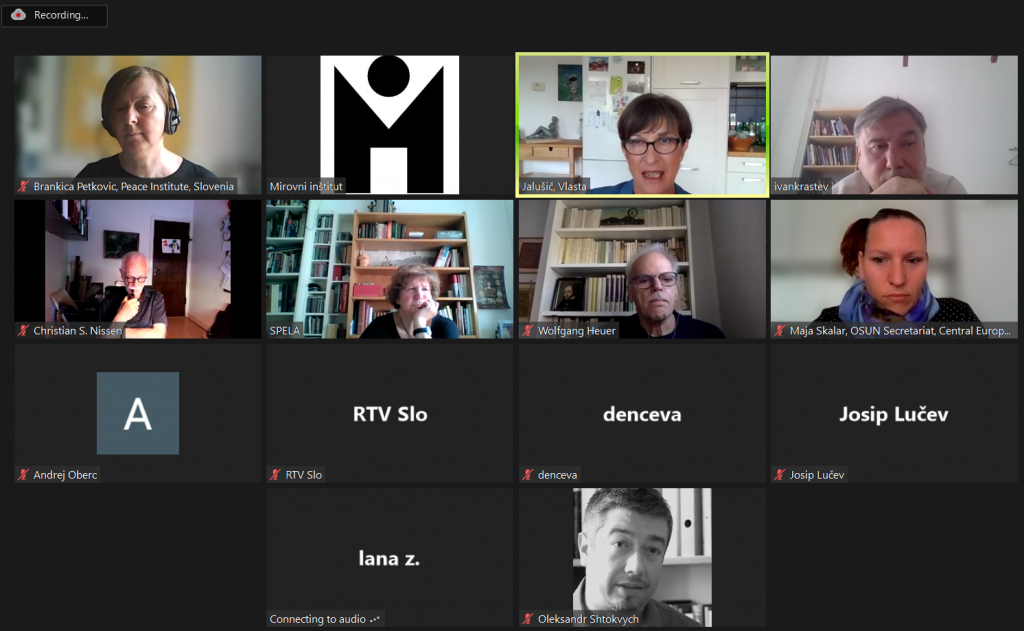 The online talk is part of the project Defending Watchdog Role of Civil Society and Journalists in Slovenia, in which the Peace Institute, the Slovenian Journalists' Association and Pod črto participate. The project is supported by the Network of European Foundations under the Civitates program.