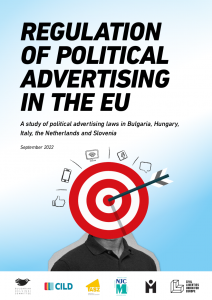 Regulation of Political Advertising in the EU
Liberties and human rights organizations in Bulgaria, Hungary, Italy, the Netherlands and Slovenia have looked at how political advertising is regulated in their respective countries.  The Slovenian review was prepared by the Peace Institute.
Regulating political advertising is a highly contentious issue, and each EU country has its own sets of laws. But they have one thing in common: the clear (and growing) threat to free and fair elections posed by uneven, outdated advertising rules.
Our report has identified three key issues that the selected countries face, namely:
-outdated political advertising legislation;
-weak oversight and enforcement authorities;
-obscure advertising practices by organizations close to political parties.