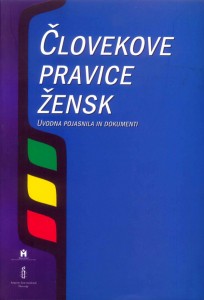 Women's Human Rights. Inroductory Notes and Documents
The story of the fight for women's rights is the story of the development of human rights. It is this story in the book at 750 pages with different angles presents ten professionals: Milica G. Antić, Maruša Gortnar, Tatjana Greif, Vlasta Jalušič, Alenka Jerše, Vesna Leskošek, Metka Naglič, Cécile Plunet, Tanja Salecl and Špela Veselič. The authors take you through the history of this struggle and present around 30 major international, regional and Slovenian legal acts concerning the human rights of women – from those of the early 20th century to those who have been taken barely a year ago. For those curious, all these acts, most of which is also true for us, are published in the original English language as well as in Slovenian.  The list of recommended literature and electronic sources with short summaries is also included.
Co-publisher Amnesty International Slovenije.