Caring Masculinities in Action (Carmia)
Gender | Project duration: 1/3/2022 - 28/2/2024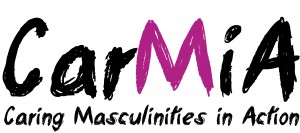 The project deepens existing and develops new perspectives in the Peace Institute's research and activist work on gender equality and masculinity. By raising awareness, training and mobilising young men for the rejection of violence and for critical attitudes towards hierarchical, dominant and privileged relations between people, the project works to reduce all forms of gender-based violence. The objectives of the project are: to improve the knowledge and strengthen the competences of teaching staff, youth workers and activists in the field of gender-based violence on norms of hegemonic masculinity and alternative conceptions of masculinity; to develop innovative participatory practices for working with young people; to empower young men to take a non-violent behaviour; to raise awareness and educate young people as agents of change through peer-to-peer activities in schools, youth and sports clubs.
Graphics: Gender Violence Vectors by Vecteezy
Project execution
Needs analysis and peer learning on innovative participatory approaches for working with young people to promote non-violent forms of masculinity.
Development and delivery of training for teaching staff, youth workers and activists on promoting non-violent masculinities
Developing and delivery of peer trainings for young men as role models and agents of change towards non-violent masculinities
Raising awareness among the public at local, national and European level.
Results
CarMiA – Caring Masculinities in Action, National Report – Slovenia
Hrženjak Majda and Markelj Leja, Peace Institute, Ljubljana, December 2022
CarMiA – Caring Masculinities in Action, Transnational Report
Hrženjak Majda, Dahlmüller Till, Könnecke Bernard and Markelj Leja, March 2023
Partners:
Instituto degli Innocenti – Italija (coordinator)
Dissens Institut für Bildung und Forschung e.V. – Germany
Verein für Männer- und Geschlechterthemen Steiermark – Austria
Center of Women's Studies and Policies – Bulgaria
Asociación hombres igualitarios -ahige andalucía –  Spain
Funders:

Funded by the European Comission, CERV-2021-DAPHNE. Views and opinions expressed are however those of the author(s) only and do not necessarily reflect those of the European Union or European Commission. Neither the European Union nor the granting authority can be held responsible for them