Study Visit of Macedonian Editors in Ljubljana
Media | Project duration: 5/11/2012 - 6/11/2012
In November 2012, the Peace Institute host a two-day study visit of  dozen editors in chief of most relevant media in Macedonia, as well as representatives of media regulator and media non-governmental organisations in that country.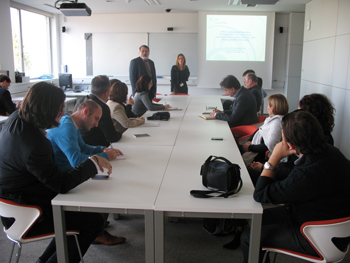 On 5th and 6th November,  the participants had opportunity to gain better knowledge about the media situation in Slovenia and to exchange views and experiences  with their Slovenian colleagues. A series of lectures, discussions and meetings were organised within the study visit in which the following Slovenian experts, media professionals, media organisations and media regulator  took part: Marko Prpič on public service broadcasting in Slovenia, Branko Čakarmiš on commercial broadcasting, Aleksander Bratina and Tomaž Drozg on the situation with print media in Slovenia, Marko Milosavljević and Brankica Petković on media policy issues, Goran Klemenčič on anti-corruption and transparency mechanisms, APEK – The Post and Electronic Communications Agency on the work of the media regulator in Slovenia, RTV Slovenia on the current situation with the PSB in Slovenia, Mladina weekly on its journalism and business models, Association of Journalists and Union of Journalists on the status and self-organisation of journalists in Slovenia.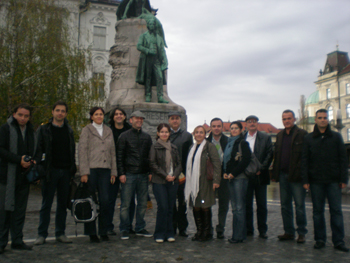 The study visit was organized in cooperation with the Macedonian Institute for Media  with the support of the Embassy of Germany in Macedonia through the Stability Pact.
Funders:
Embassy of Germany in Macedonia through the Stability Pact