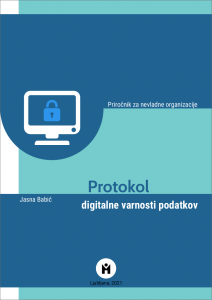 Handbook for NGOs: Digital Data Security Protocol
Nowadays, there is almost no organization that does not provide at least a basic secure information environment or, in cooperation with an external contractor, provides the necessary information support. Despite everything, knowledge about secure communication between members of non-governmental organizations and external sources, about secure data exchange and about storing data, documents and contacts often still depends on the awareness and technological literacy of the individual.
Non-governmental organizations and other civil society groups that work in the field of advocacy, human rights and active citizenship are occasionally the target of organized viral attacks on their websites and communication channels. Digital vulnerability (potential intrusions into communication, disabling access to websites or obtaining data and documents) represents a serious threat to the independent work of non-governmental organizations. Therefore, it is imperative that non-governmental organizations and their employees or members proactively ensure their digital security, the security of their data and establish secure communication with members of their collective, project partners and various media or other sources.
The purpose of the Handbook for non-governmental organizations: Digital data security protocol is to strengthen digital security and communication security at the organizational level of non-governmental organizations, to empower individuals working in/for a non-governmental organization and, above all, to develop and implement an internal digital security and communication protocol for individuals working in/for non-governmental organizations.
The manual was created as part of the PODPRI project: development of innovative models of support and communication for NGOs, with which the mentioned non-governmental organizations develop and test innovative models of communication and support to address the lowering of democratic standards in Slovenia and the shrinking of the space for the operation of civil society. The activities are co-financed by the Ministry of Public Administration as part of the public tender for the development and professionalization of NGOs and volunteering in 2019. The content of the handbook expresses the opinion of the author and does not represent the official position of MJU.