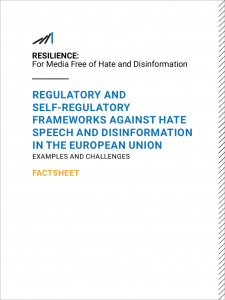 Overview of the hate speech and disinformation regulation in the EU and in the EU enlargement countries
n the framework of the regional project Resilience, which strengthens the role of civil society in defending media freedom and combating hate speech and disinformation in the media in the Western Balkans and Turkey, in addition to three research studies (on models of media and communication that spread hate speech , propaganda and disinformation; on hate narratives in online media and communications; and on trust in the media) the project research team has provided an overview of the regulation of hate speech and disinformation in these countries and also in the European Union. In addition to legal provisions, the researchers also presented the implementation of regulations in practice, as well as the operation of self-regulatory instruments. Eight publications have been published: overviews of regulation and self-regulation and good practices in seven countries – Albania, Bosnia and Herzegovina, Montenegro, Kosovo, North Macedonia, Serbia and Turkey, and an overview of examples and challenges of hate speech and disinformation regulation at EU level and in individual EU MS. The Peace Institute has developed a methodology, guided the research, edited research reports and compiled an overview of cases and challenges of the regulation in the EU, including the main elements of the Digital Services Act, which is in the process of being adopted by the European Parliament.
The publications with overview of the regulation and self-regulation are available here.