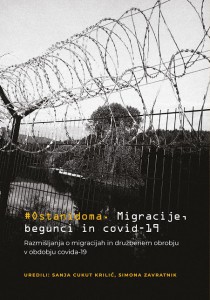 #stayhome: Migration, refugees and covid-19
Frontier publishing house published the collection #stayhome: Migration, refugees and Covid-19, edited by Simona Zavratnik and Sanja Cukut Krilić. The global epidemic of the coronavirus disease 2019 and the impact it has on our daily lives clearly show that it is a topic that will have far-reaching not only public health and epidemiological, but also social, cultural and economic consequences. So far, the main emphasis has been on the health implications related to the prevention and control of the number of infections and the reduction of the number of deaths. Recommendations from global public health actors [were] aimed in particular at ensuring appropriate hygiene conditions and measures to "contain" infections, such as hand washing, adequate fluid intake and maintaining a safe distance, and that is maintaining spatial and physical distance.
It soon became clear that already at this level big problems arise for some groups of the population. What should be done with such measures for homeless people who do not have access to drinking water, live in temporary and emergency shelters or even on the street; how to ensure a safe distance in homes for the elderly, where the so-called corona crisis has revealed a long-standing personnel, financial and infrastructural deficiency in this area; how to solve the problem of victims of domestic violence who are confined at home with their perpetrators; how should migrant workers in collective "singles' homes" act (if they even kept their jobs in the new crisis); how often should refugee women, refugees and children wash their hands in collective centers where there are few areas for hygiene and little water. The list goes on and on and raises many questions.
The contributions of Anja Zafošnik, Špele Perner, Erina Borovič, Špele Vovk, Klara Andlovic, Sara Ugrin, Janja Pečan and Adriana Aralica in the penultimate part of the collection were created in cooperation with Platform SLOGA within the project #MigratED (Digital tools for enhanced topics of migration and human rights in education). #MigratED project activities in Slovenia are co-financed by the Erasmus+ program of the European Union and the Ministry of Public Administration. We conclude with contributions by Simone Zavratnik and Katje Lihrenvalner in English, which were previously published on the blog of the scientific journal Studies in Ethnicity and Nationalism and in the Resonant Voices Initiative in the EU.