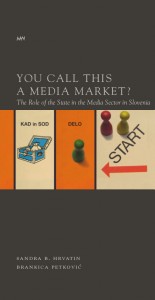 You Call This a Media Market? The Role of the State in the Media Sector in Slovenia
Our decision to explore the State's role in the media sector in Slovenia was motivated by enduring conflicts between the media and the political sphere, with the change of government in 2004 only aggravating the situation.
Furthermore, the studies conducted as part of the Media Watch project, which is now in its tenth year, and particularly the analysis of the situation of the public service broadcaster Radiotelevizija Slovenija and media ownership, called for a more thorough examination that would take us to the sources of the powerful influence of the State and political elites on the Slovenian media.
We sought to determine whether the situation of the Slovenian media and journalists and the relationship between the State (the political sphere) and the media could be explained with the help of concepts such as political parallelism, political clientelism and political instrumentalization, as utilized by Daniel C. Hallin and Stylianos Papathanassopoulos in an article entitled »Political clientelism and the media: Southern Europe and Latin America in comparative perspective«, and by Daniel C. Hallin and Paolo Mancini in the book »Comparing Media Systems – Three Models of Media and Politics.«