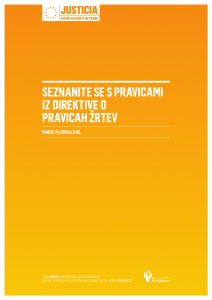 Your Rights under the Victims' Rights Directive
As part of the "Know Your Rights" project, the JUSTICIA network published the booklet "Know Your Rights from the Victims' Rights Directive". The booklet explains the rights, support and protection to which the victim is entitled before, during and after the criminal proceedings. The booklet is the second in the series "Know Your Rights" in the field of criminal justice in the EU, published by the JUSTICIA network.
JUSTICIA European Rights Network is a pan-European network consisting of 19 member organizations based in 18 countries of the European Union: Associazione Antigone Onlus (Italy), Association for the Defense of Human Rights in Romania – the Helsinki Committee, Bulgarian Helsinki Committee, Civil Rights Defenders (Sweden), Croatian Legal Centre, Estonian Human Rights Centre, Greek Helsinki Monitor, Helsinki Foundation for Human Rights (Poland), Human Rights Monitoring Institute (Lithuania), Hungarian Helsinki Committee, Irish Council for Civil Liberties, KISA – Action for Equality, Support, Antiracism (Cyprus), Latvian Center for Human Rights, League of Human Rights (Czech Republic), Ludwig Boltzmann Institute of Human Rights (Austria), Open Society Justice Initiative (Hungary), Rights International Spain, Statewatch (UK) and Peace Institute (Slovenia).
The booklet is available here.