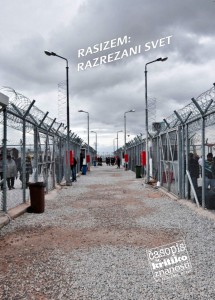 Racism: A Divided World, thematic issue of the ČKZ
Thematic issue of the ČKZ: A Divided World / Rasizem: razrezani svet, No. 260, Beletrina: There are many reasons for this issue of the ČKZ on racism towards all women, men, children, teenagers who come to Europe because of war, climate change, economic or personal reasons ect. Here, the racism of political parties and groups has moved from obscurity to the center of political decision-making. Both, the left and the right, merged in the European center, locked in alienated institutions, internalized racism as an agenda of their policies, instead of building a cordon sanitaire around racism. Today racist political parties are part of the European Parliament and other decision-making institutions. In the last decade right-wing and extreme right-wing parties have been gaining strength, and their election results are visibly improving. During this time, the membership and public visibility of paramilitaristic, far-right groups in all corners of Europe, which idolize fascism and Nazism in closed camps, and reap approval in public life by referring to patriotism, so-called i. "good nationalism". Their targets are migrants, Muslims, Roma, they call for the lynching of LGBT people, they celebrate war and the Holocaust. We have experienced the re-legitimization and with it the revival of racism, with the simultaneous expulsion of the term racism from the political vocabulary, when the political elites convince us that racism doesn't exist any more. In this issue of ČKZ, we reveal the masks of racism and draw attention to its vitality and omnipresence.
Authors (in order of published articles): Mojca Pajnik, Giovanna Campani, Vlasta Jalušič, Gal Kirn, Egon Pelikan, Irena Šumi, Ana Frank, Iztok Šori, Roman Kuhar, Nina Meh, Adin Crnkić, Veronika Bajt, Boris Vezjak, Zarja Protner, Gabriella Lazaridis, Vasiliki Tsagkroni, Edma Ajanović, Stefanie Mayer, Birgit Sauer, Erik Valenčič, Irina Vincič Manojlović, Maša Pavlič, Nena Močnik, Ildiko Barna, Živa Humer and Mojca Frelih.