Communication skills, conflict resolution and stress management for fathers
Communication skills, conflict resolution and stress management for fathers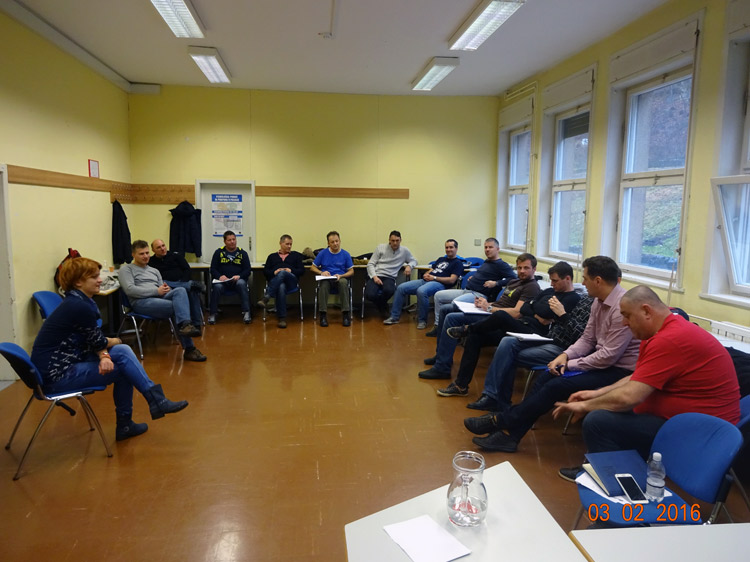 Fathers acquire knowledge on communication skills, conflict resolution and stress management at ODA workshops
In the context of the pilot implementation of the Flexible package of measures ODA, thematic workshops were conducted for fathers who are employed in the Police, RTVSLO, Support & Trade d.o.o and GoOpti / TM Vista d.o.o.. At the initiative of the fathers, workshops were aimed to skills and knowledge acquisition in communication, conflict resolution and stress management. The acquired knowledge can be used in both – the work and family environment. The debate was focused on concrete examples from job and home environment. The workshops were led by Nina Babič, university degree psychologist from FamilylabSlovenija. Learn more about the content of the workshops below.
Workshop: Communication and conflicts – how to co-create the atmosphere and attitudes that encourage productivity and creativity
Content:
Relational competence – the art of establishing and maintaining relations; whose responsibility is the dynamics of relationships at work, how do relationships contribute to satisfaction and performance of the individual and what to do when the "going gets tough".
Personal speech and dialogue – an essential tool for setting boundaries and resolve conflicts; complimentary speech or personal expression – when and why; the advantages of high-quality dialogue before monologues and deliberate silence; how to maintain one's own boundaries without losing control and without emotional hijacking.
Particularly demanding situations: conflicts between employees, between management and employees as well as externally; what are the differences between the various conflicts – professional, personal; horizontal hostility, mobbing.
---
Workshop: Stress management – how to survive at work and at the same time feel good
Content:
Integrity vs. Cooperation – basic existential conflict; how to maintain balance between loyalty to self-integrity and subordination / cooperation with the community in which we work.
Personal and social responsibility: the relationship between my values and the values of the company; social responsibility as a cover for personal responsibility?; how do I take decisions and what are the consequences of different decisions?
Burnout – how and what with it?; take care of one's self and others – why we cannot take care of anyone if we do not take care of ourselves – how to achieve this and why caring for oneself is the basic protective factor of mental health at work and everywhere.