Fathers and Employers in Action – ODA
Gender | Project duration: 3/2/2015 - 30/4/2016
Equal inclusion of fathers in family life and child care is beneficial to all – men, children, women, employers and society as a whole.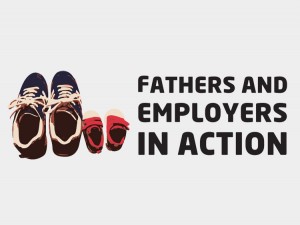 The project "Fathers and Employers in Action" is addressing work – life balance of fathers. The aim is to foster equal fatherhood in family life and cooperation of key actors, employers, trade unions and working fathers in developing and testing new strategies and possibilities of work – life balance. The project focuses on the problems of work – life balance of (young) fathers at managerial positions and in precarious forms of employment.
Project activities:
Awareness raising: website (www.enakopraven-oce.si),
FB, Twitter, press conferences, leaflet, policy brief, e-book on fatherhood and final conference.
Research: State of the Art, quantitative and qualitative study, and scientific monograph.
Action: workshops for employers, workshops for fathers, pilot testing in four organisations, manual for employers.
Results:
The 6-months pilot experiment was successfully implemented in four organizations in Slovenia, which joined the project ODA: Police, RTV Slovenia, an IT company Support & Trade d.o.o. and a transportation company GoOpti. In 4 organizations 41 fathers joined the pilot experiment using different work-life measures. The 'fathers-friendly' measures were developed together with involved fathers and their employers, and most often covered measures related the organization of work and working time, the education and training (workshops for fathers).
On the basis of conducted research, workshop for employers, pilot experiment and its evaluation policy brief with the recommendations for policy makers was prepared and discussed at the Ministry for Labour, Family, Social Affairs and Equal Opportunities.
The relations among fatherhood and the labor market changes were discussed at the international conference Fathers and Employers in Action, which was held on 31 May 2015 in the grand hall at The Association of Free Trade Unions of Slovenia. Prof. dr. Victor Seidler from Goldsmiths, University of London opened the conference with the lecture Fathering, Masculinities and Generations. We hosted more than 50 participants from ministries, NGOs, academia, trade unions and employers, sharing their knowledge, expertise and experience about the issues on the role of state, employers and management in organizations in the implementation of work-life balance measures with special focus on men.
Two publications were issued within the project: monograph Transformations of fatherhood: men between parenthood and work, and electronic book 'Fathers. Short Stories about Contemporary Parenthood'.
The project ODA was also presented at the OSCE Human Dimension Committee in Vienna on October 11th 2016, which was dedicated to economic, social and cultural rights. Dr. Iztok Šori presented a voluntary report about main outlines and outputs of the project Fathers and Employers in Action, which received a very positive response from present country delegations. The visit was organised by the Permanent Mission of Slovenia at OSCE and the ambassador Andrej Benedejčič, who is also the Chair of the OSCE MenEngage Network.