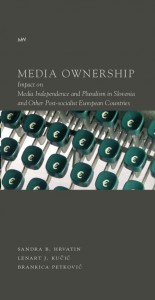 Media Ownership. Impact on Media Independence and Pluralism in Slovenia and Other Post-Socialist European Countries
This book contains the regional overview compiled on the basis of the 18 country reports written for this project, the full text of the Slovenian report and the conclusions and recommendations of the international conference organized upon the conclusion of the project.
The objective of the regional research and advocacy project was to examine the media ownership situation in the countries of South East Europe and eu member states from Central and Eastern Europe. The emphasis was on the legal framework and the mechanisms employed by individual countries to implement legal provisions, the privatisation process, the ownership structure of the main media outlets and the influence of media ownership on the pluralism and independence of the media.
Eighteen researchers and journalists from Albania, Bosnia and Herzegovina, Bulgaria, Croatia, Czech Republic, Hungary, Estonia, Kosovo/a, Latvia, Lithuania, Macedonia, Moldova, Montenegro, Poland, Romania, Serbia, Slovakia, and Slovenia, collected and analysed relevant data from October 2003 to February 2004.