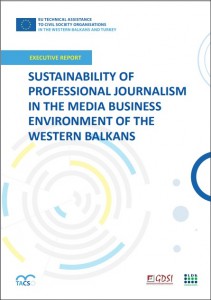 Sustainability of Professional Journalism in the Media Business Environment of the Western Balkans
The Executive Report on sustainability of professional journalism in the Western Balkans  was made public in September 2020. It provides a summary of the findings of research on the economic situation, needs and prospects of independent media outlets in the Western Balkans (Albania, Bosnia and Herzegovina, Kosovo*, Montenegro, North Macedonia and Serbia), which was conducted between June and November 2019. It summaries the main findings of the full study and revolves around an analysis of the structural conditions affecting media ownership, the commercial operating environment and the available sources of funding as well as media consumption habits and audience demand. The Executive Report is accompanied by six National Data Overviews, which give a detailed information on the state in each of the analysed countries.
In 2019, the research on sustainability of professional Journalism in the media business environment of the Western Balkans was commissioned by the European Commission and implemented under the auspices of EU TACSO 3. The full study is serving the needs of the European Commission, DG NEAR, for planning future actions in the field.
The research was led by Brankica Petković of the Peace Institute, Ljubljana, and conducted under her guidance and supervision by the team of researchers based in the Western Balkans, including Sanela Hodžić as a regional researcher, Ilda Londo in Albania, Anida Sokol in Bosnia and Herzegovina, Jeton Mehmeti in Kosovo, Vesna Nikodinoska and Slavčo Milenkovski in North Macedonia, Daniela Vukčević in Montenengro and Vladimir Kostić in Serbia.
The Executive Report is available here.
The National Data Overviews are available here:
*This designation is without prejudice to positions on status, and is in line with UNSCR 1244/1999 and the ICJ opinion on the Kosovo declaration of independence.