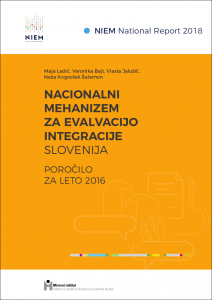 Report on the evaluation of the integration of beneficiaries of international protection, Slovenia 2016
This report is the result of the first of the three planned rounds of evaluation – the so-called baseline evaluation, comprising 186 indicators from different areas of integration. The next evaluation will be carried out in 2019 and then again in 2021, both followed by the release of national reports as well as a joint European report comparing the reviewed dimensions of the integration policies of all 14 countries participating in the NIEM project. The report covers the situation until 31 December 2016, the data were collected in 2017 and the report was written in 2018.
The report is addressed to representatives of the public administration, academic and research centers, groups of experts, non-governmental organizations and all others dealing with migration and integration issues. We hope that the report will be of interest to you and will provide a good basis for policy-making and deepening the knowledge on the integration of beneficiaries of international protection.