Empowering Nyamirambo Women's Center
The purpose of the action is the strategic empowerment of Nyamirambo Women's Center (NWC) to become self-sustainable in long-term and a factor of influence in its local community and in Rwandan society in general. The specific objectives of this Project are:
to build the capacity of NWC;
to achieve economic empowerment and the poverty-reduction among NWC's membership and local population;
to secure long-term sustainability of NWC;
 to increase the visibility and influence of NWC;
to increase the local community's awareness on gender-based violence, women's and children's rights and women's participation in the community, and to increase the social integration of particular groups of women.
Project leader: Vlasta jalušić
Project coworkers: Jovana Mihajlović Trbovc and Maja Ladić
Local staff in Kigali: Jim Muhwezi Kaberuka, Jackline Murungi.
Project execution
Educational and training activities: These activities include preparation and implementation of various courses, public events, workshops and study visits.
Sustainable program design and performance of continuous centre's activities : This activity aims at strengthening of the NWC's activities as well as at designing sustainable program of the women's group public part of the programme (public lectures, round tables, workshops, film events).
Community-based tourism: The idea of a community-based tourism run by the NWC is to carry out an income-generating tourist activity in an urban environment of Kigali, and particularly in Nyamirambo – a merchant quarter with a majority Muslim population and with numerous religious, cultural and historical sites.
Activities for the purchase of land, house and vehicle: The purchase of land, building of a house and purchase of a vehicle are crucial for the Centre's self-sustainability and self-management – and also for the successful and sustainable development of the tourism activity.
Fundraising activities: Fundraising is going to be a significant part of the project's activities. Peace Institute is already pursuing these activities to ensure the support for the individual women for their school fees.
Awareness-raising, visibility and dissemination activities : Awareness-raising and information dissemination activities present an important aspect in terms of project promotion, NWC visibility nationally and internationally, and public awareness building about gender issues and gender equality.
Peace institute is organizing international conference titled Women's empowerment through community based tourism and cultural exchange: chances and challenges. It  will be held from 19th to 21st November 2010 in Kigali, Rwanda. Deadline for the submission of abstracts is 5th July 2010.
Call for papers.
Program
Results
NWC Flyer.pdf
Rwandan Women for Slovenien Study Tour.doc
Agenda for the study visit to Slovenia.doc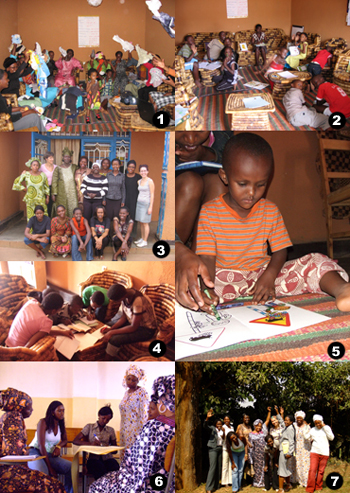 NWC members were pleased to receive gifts from Slovenia.
Children's workshop.
NWC members in front of the centre office together with Vlasta and Jovana.
During the hollidays children were attending project's workshops.
Children learning on workshops.
NWC members during group work at Workshop about violence.
NWC members after Workshop about violence.
Partners:
Nyamirambo Women's Center (NWC), Rwanda
Rwanda Association of University Women (RAUW), Rwanda
New Dawn Associates (NDA), Rwanda
Funders:
The European Commission's Delegation to Rwanda